When a business finds itself in a declining market, failing to stay in lock step with customer demand poses an existential threat. Trends and other market forces that impact commercial opportunities need to appear on the planning radar. Therefore, traditional push-driven supply chains are wholly unfit for this situation.
Fine paper is an example of an industry whose total addressable market has been shrinking for decades and looks set to continue (see figure). This once high-volume and personal business has been turned right on its head.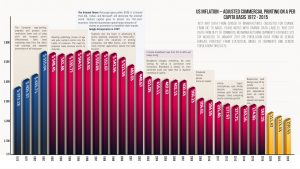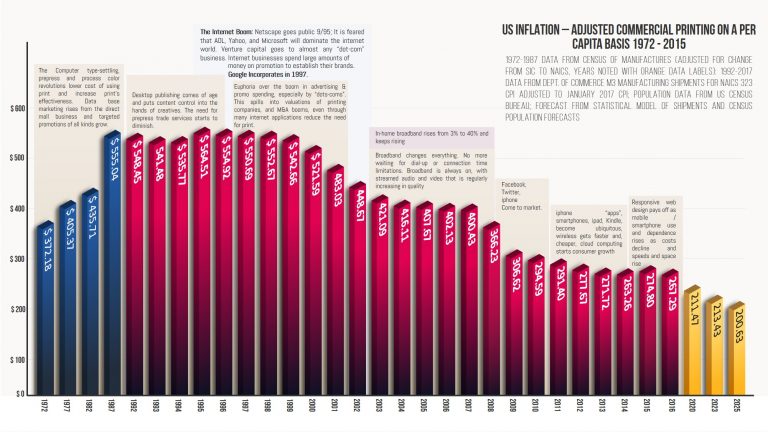 Rather than cutting back, our customer Mohawk Industries decided to lean in. It bought its main rivals to become North America's largest fine paper manufacturer.[1] Mohawk sought to profit from the resurgent demand for 'analog experiences' by owning the fine paper space and transforming its extended supply chain.
Mohawk's SVP of supply chain John Angleson described the scale of the challenge: "The relationship between the manufacturer and distributor in the paper business has typically been characterized by various forms of manipulation, both positive and negative. We had to move all the players out of their comfort zones, into a data-driven, collaborative culture."
In the first phase Mohawk overhauled its own internal operations, implementing a centralized Sales and Operations Planning (S&OP) process to manage its business in a more demand-driven way. The company elected to hold weekly (rather than the more typical monthly) COO-led executive reviews to monitor demand trends and progress against the plan. These sessions resulted in improved make-to-stock and make-to-order service levels. They also cut inventory levels, grew sales and resolved capacity issues.
Their S&OP program, however, was only the beginning. The second phase involved Mohawk extending their new supply chain improvements out to its distribution network.
To overcome historical obstacles, Angleson set three ambitious goals:
Change the relationship between the manufacturer and distributor from manipulation to collaboration
Change the definition of success from how much paper the distributor buys to how much its sells
Establish joint responsibility for inventory to reduce the risk of obsolescence
Mohawk's supply chain planning software played a vital role in their ability to achieve these goals. It supported collaborative goal-setting, negotiation and decision-making by giving all players in the extended supply chain a transparent, shared view of data that they could trust.
Mohawk continues to fine-tune its S&OP process to optimize inventory in the planning system. Their improved system defines inventory targets for each stock item at each location across the network and performs forecasting, service-level planning, and inventory mix optimization. It also handles requirements planning, resupply of regional (level two) Distribution Centers (DCs) and passes manufacturing replenishment requirements to the production scheduling system.
Improving culture, service levels and profitability
Mohawk succeeded in the extremely difficult task of changing the culture of its extended supply chain. Collaborating on shared, mutually beneficial commercial goals replaced the antagonistic 'us' vs 'them' mentality. Crucially, Mohawk now works with distributors to help them sell more fine paper products.
In order to meet today's service expectations for fine paper products, Mohawk's customer service-level metric was changed from "order lines shipped complete within five days" to "order lines complete and available at time of order".
Despite this more demanding metric, customer-service levels increased from 85 to 93 percent in just six months with significantly fewer costly rush orders. During that same period, global inventory was reduced by 25 percent, with eight percent sales growth and a 40+ percent improvement in inventory turns.
According to Angleson, "Absolutely key to our success has been transforming to a data-driven culture, working on a single view of the truth and actively, continuously managing our data". Mohawk and its partners are succeeding together by servicing demand profitably in the declining fine papers market.
[1] Mohawk is now North America's largest private fine paper manufacturer, following acquisitions of International Paper's Fine Paper division, the brand assets of Smart Paper and most recently, Crane Stationery.