Three named storms in one week: England has never experienced anything like that. London had its first-ever "red alert" weather warning. Storm #1 – "Deadly Dudley" as one newspaper headline called it – didn't prove as destructive as storm #2, Eunice, which raced and raged across Wales, England, and Northern France on February 19, leading to shipping delays in the English Channel and the North Sea. 
On February 18, three of the UK's leading ports, Felixstowe, Southampton, and London Gateway, closed because of the storm. Felixstowe, the number one container port, closed for the weekend, and all transport bookings were cancelled there. 
Cross-channel ferries cancelled
Cross-channel ferries on the Dover-Calais route were cancelled on February 18. This naturally added to the congestion truck drivers have been facing for weeks as Brexit's freight-related bureaucracy begins to bite. With the UK now outside the EU, the amount of paperwork required to transport goods to and from the UK has risen exponentially. 
The delays due to customs officials being required to check every truck's documentation have caused severe congestion at Dover, the main port for freight traffic to and from the Continent. The tailback of trucks frequently extends for many miles out of Dover. The inside lane of the M20 highway from London to Dover is now reserved for truckers queuing up for a cross-Channel ferry. Waiting times for many hours are the rule.
Port delays
As the charts below show, Storm Eunice also increased congestion and container dwell time at several ports in England and Northern France on February 17-18.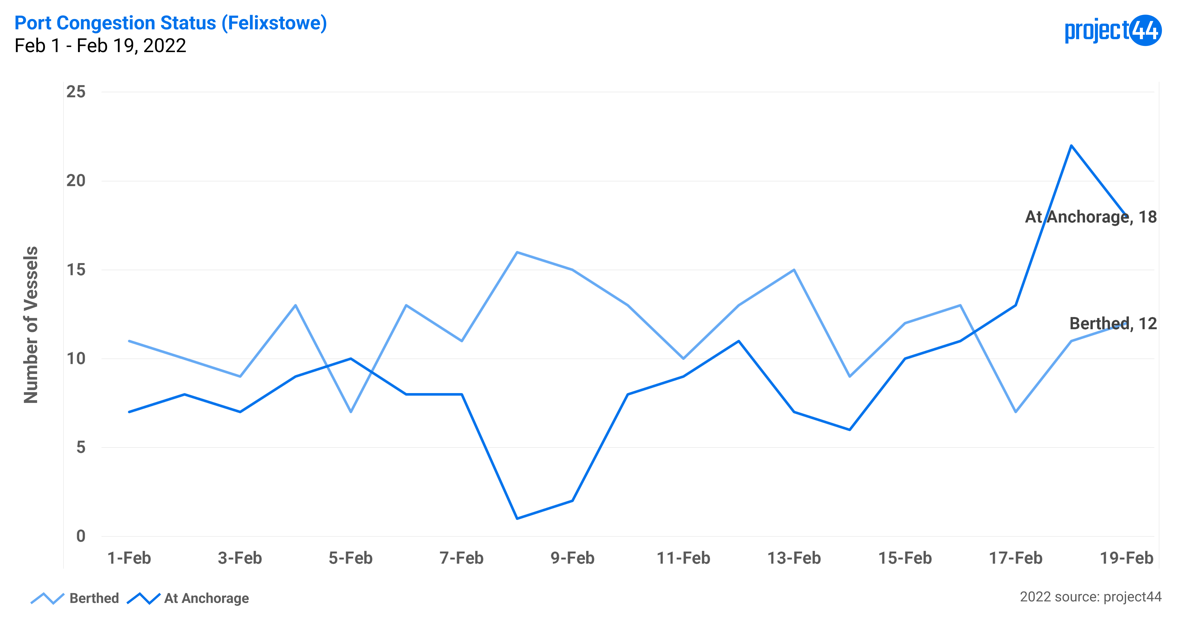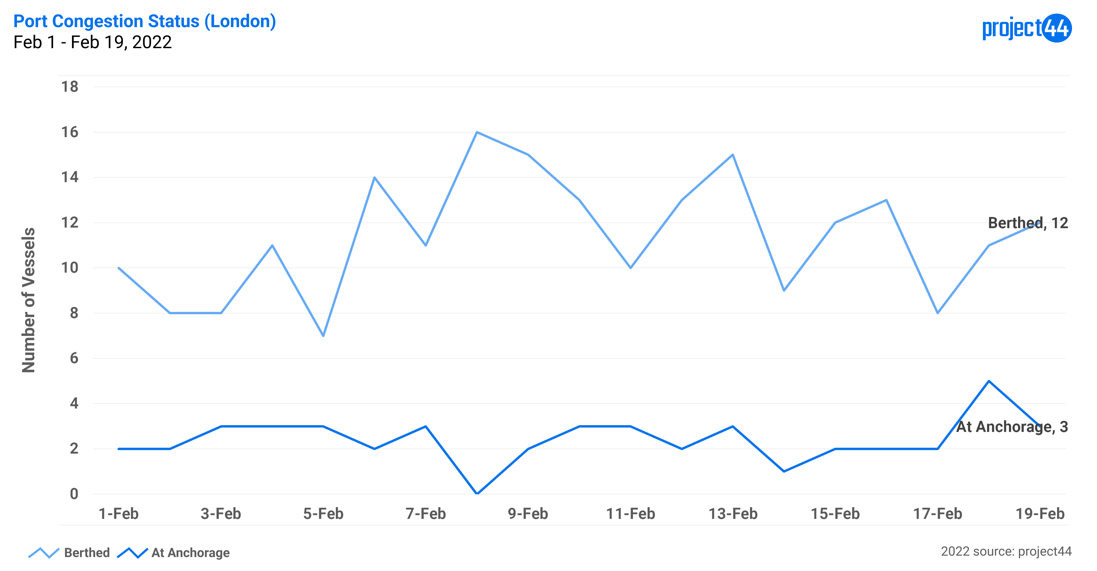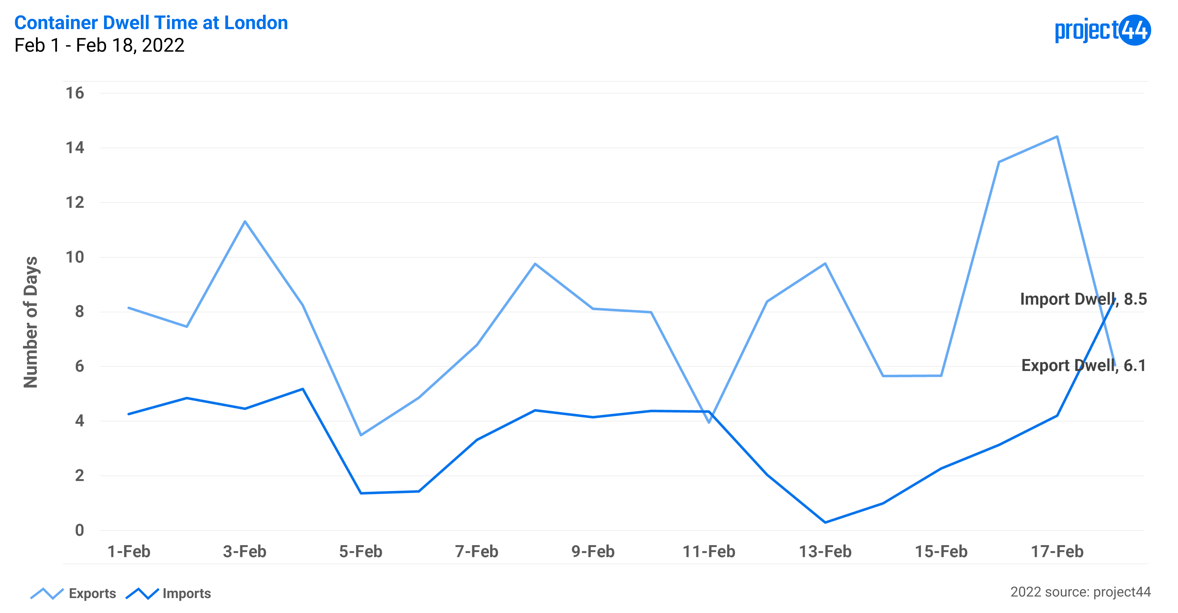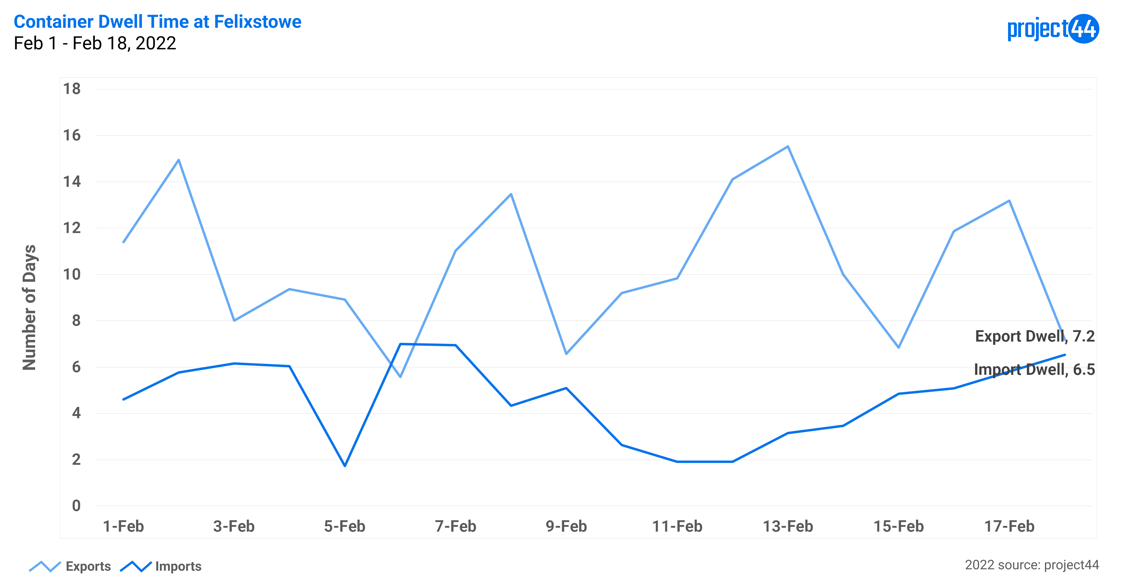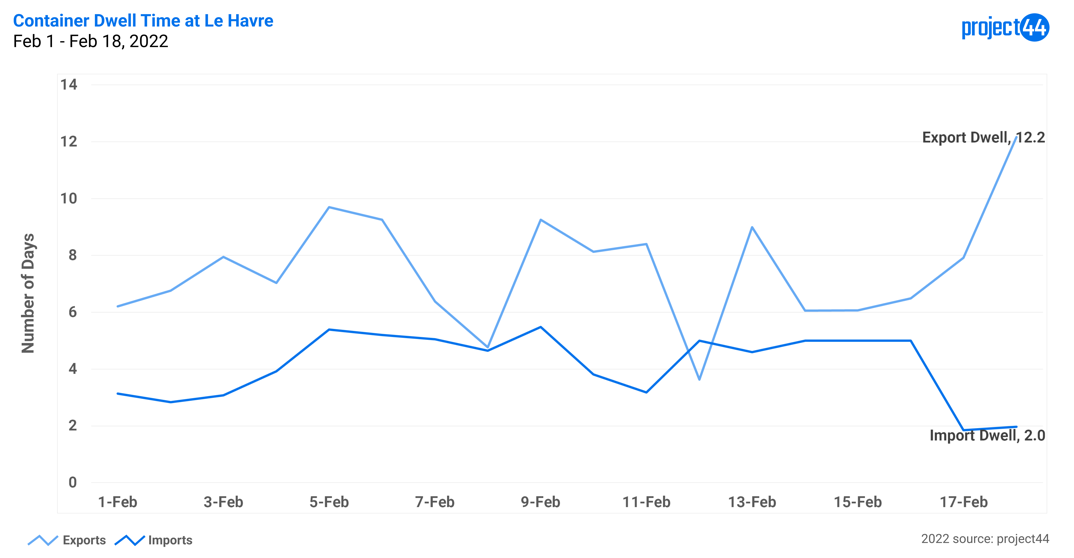 Containers overboard in the North Sea
The Panama-registered 6,350 TEU containership MARCOS V (IMO: 9307059) lost at least 26 containers, reportedly empty FEUs, in the North Sea after being caught in Storm Eunice during the night of February 18-19. The vessel's last reported destination was Rotterdam, probably after the container loss, where it berthed at around 1200 UTC on February 19. The Dutch coastguards used helicopters and an emergency towing vessel to search for the missing containers and have also alerted ships in the area to keep a watch for the lost containers –a necessary precaution as Rotterdam is Europe's number one container port.
Ongoing delays due to Storm Franklin
Most UK ports were reopened briefly on February 19 after Storm Eunice had passed through. But the third named storm of the week, Franklin, caused further disruption on February 21-22, with port operations at Felixstowe, Southampton, Antwerp, Dublin, and Rotterdam suspended.
The ongoing delays due to an unparalleled three named storms in five days are likely to cause further delays in collections and deliveries of goods during this week.
Disclaimer: The data referenced in this release is sourced from project44's freight visibility platform, based on the logistics indicators that the platform tracks. The sample data sets referenced do not include all freight movement data tracked by other entities. Data from project44's platform reflects a statically significant sample size to draw conclusions.